---
Barzilai Medical Center Website
---
باسمي وبالنيابة عن اعضاء ادارة المركز الطبي الجامعي برزيلاي، أتقدم باحلى التهاني والبركات للمستخدمين المسلمين من القطاع الطبي
وغير الطبي بحلول شهر رمضان المبارك.
اعاد الله عليكم بالخير والعافية وكل عام وانتم بخير.
پروفسور حيزي ليڤي
مدير المركز الطبي
---
The Barzilai university Medical center wins again the accreditation of the JCI with outstanding excellence
This week, the Joint Commission International committee renewed the accreditation of the Barzilai Medical Center after having passed the accreditation audit with out standing excellence.
---
Professor Ben Yosef joined the oncology unit in Barzilai
The management of the Barzilai Medical Center is happy and honored to have Professor Rahamim (Rami) Ben Yosef as a part of the oncology team.
---
Golden Star for the Barzilai University Medical Center
The Barzilai Medical Center was awarded a Five Golden Star Certificate during the ceremony that was conducted last week for the "The best sheltered and protected area in the public space in ISRAEL BEAUTIFUL.
---
President of Israel, Sir Yitzchak Herzog visits the Barzilai Medical Center.
---
Seminar day on dementia
Dementia is a group of diseases that affects the brain and results in slowly but progressive deterioration in the process of thinking, memory, decision making and insight and later leads to functional deterioration.
---
Firefighting Drill in the Operating Theatre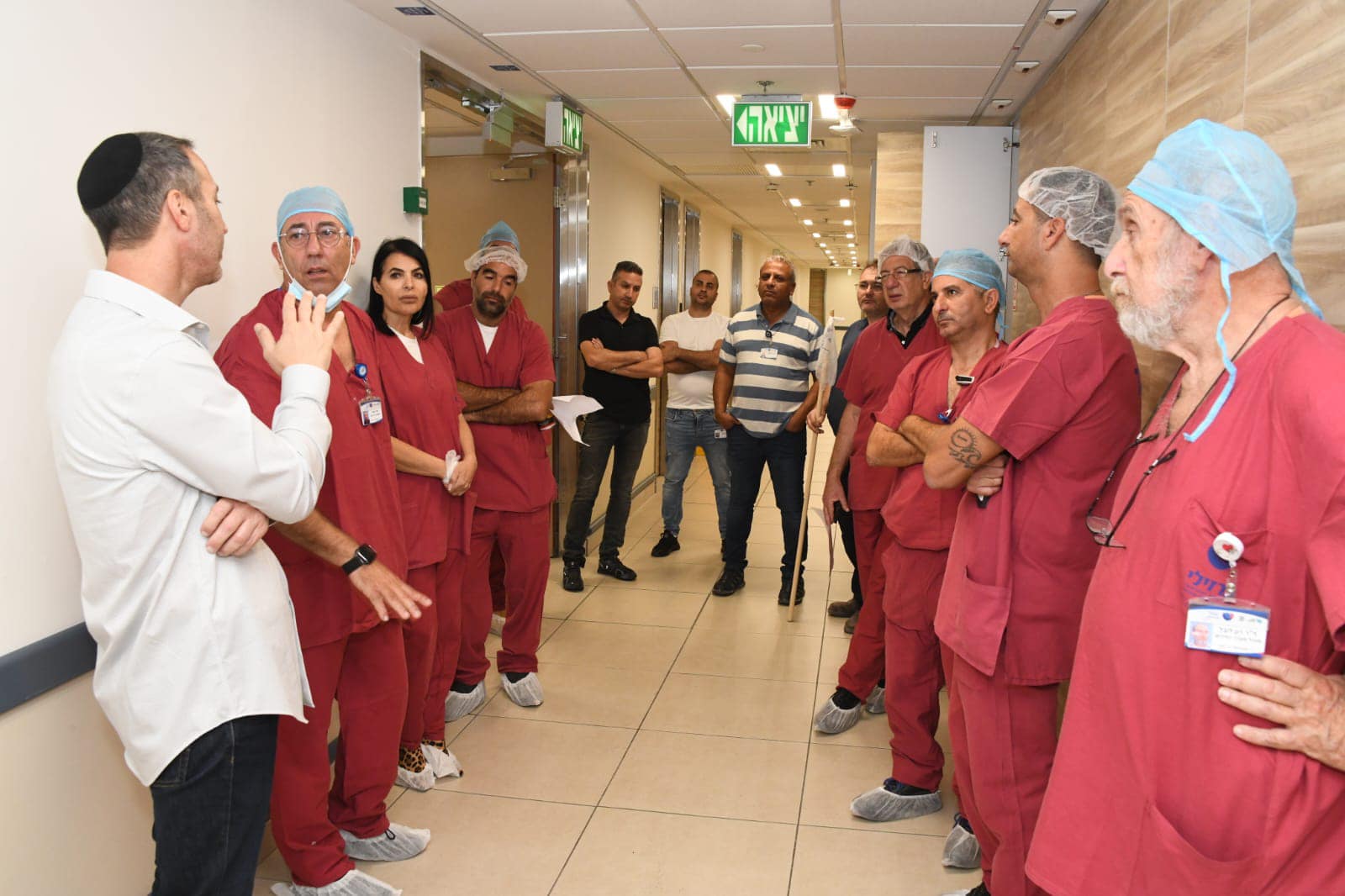 The administrative manager with the operating room staff
The management of the hospital conducts every year several types of drills in different parts of the departments and units of the medical center in order to preserve and upgrade the staff's knowledge in dealing with emergency situations, mass casualties and catastrophes.
---
Cyber attack drill on the hospital systems
During December 2022, a simulation of a cyber attack event on the Barzilai computerized system was performed and all the communication systems of the hospital were paralyzed.
To the full article
---
The best physicians of Israel - Forbes magazine
---
The volunteer day in Barzilai
More than 90 volunteers work relentlessly in the Barzilai Medical Center, 62 of them are women. These volunteers are the proof that Barzilai is a one united, caring and involved family.
To the full article