Ms. Beatriz Aristimuño, Chairwoman of Anouk Foundation from Switzerland has achieved her dream to bring artists from all around Europe, buy unique colors and bring them to Israel, to the rocket-stricken area, and give kids joy and light.
For three years she worked to raise funds to fulfill her dream. Among European contributors to the project was also an Israeli family, Federman family, owners of Dan Hotels.
The artists who came from Switzerland and France stayed three weeks in the kibbutz near Ashkelon, and created a warm and love relationship with the team of Child and Adolescent Unit and with children treated in the unit.
During the ceremony speeches were delivered by Dr. Ron Lobel Deputy Director of Barzilai Medical Center, Mr. Chemi Gur Director of Dan Garden Hotel, Federman family representative, Unit Director Dr Basson, Ms. Beatriz Aristimuño Chairwoman of Anouk Foundation and of course the artists representative.
The ceremony was signed off by Hagar Hofesh the medical clown who amused the crowd with her typical charm and grace.
Finally the children thanked the artists with paintings and drawings of their own in a special gesture that moved the artists to tears.
Donors and artists in the ceremony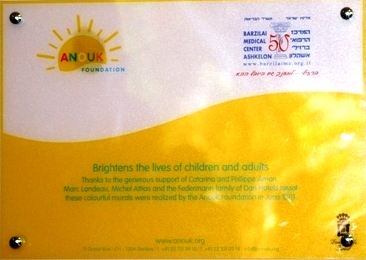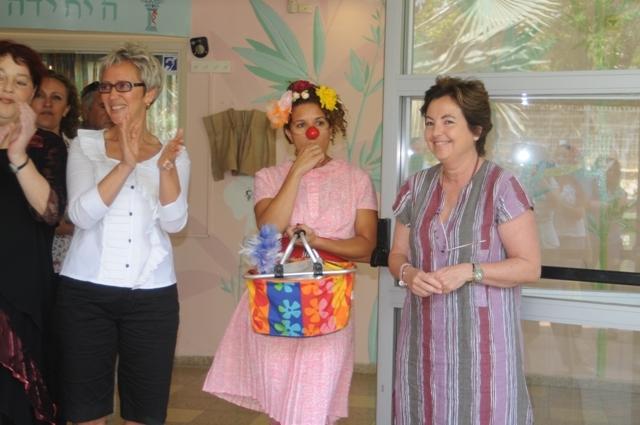 More about Anouk foundation click the links below