During a moving ceremony, held on the 22/02/11, Mr Eli Elezra, the donator, along with the staff of the Medical Center and the OBG department, inaugurated the new Obstetric Emergency Unit.
Establishment of the unit was made possible by renovation performed by the management of the Medical Center to improve the conditions of treatment and hospitality in the Obstetrics service.
Expensive monitoring equipment has been installed at each bed thanks to the generous contribution of Mr. Eli Elezra, an active member of the "Association of the Friends of the Barzilai Medical Center".
Dr. Shimon Scharf, medical director, noted the significant increase in the number of deliveries during the year 2010, coming up to 4200 births. He praised the Obstetrics team, headed by Prof. Eyal Antebi, who does its best to provide the optimal care and improve hospitality conditions of the parturient.
He added that despite the increase in the number of deliveries and lack of anesthesiologists, doctors manage to provide epidural anesthesia to more than 70% of the parturient.
Professor Antebi added that opening the Obstetric Emergency Unit, equipped with modern appliances, constitutes a significant improvement in quality of care and hospitality.
Mr. Eli Elezra said: "It is a privilege given to me to award this modest contribution to our hospital. I am happy to be a listening ear to any request from the management of the hospital".
At the end of the ceremony, Dr. Scharf awarded Mr. Eli Elezra the "Stamp of the Medical Center" in recognition and thanks for his generous contribution.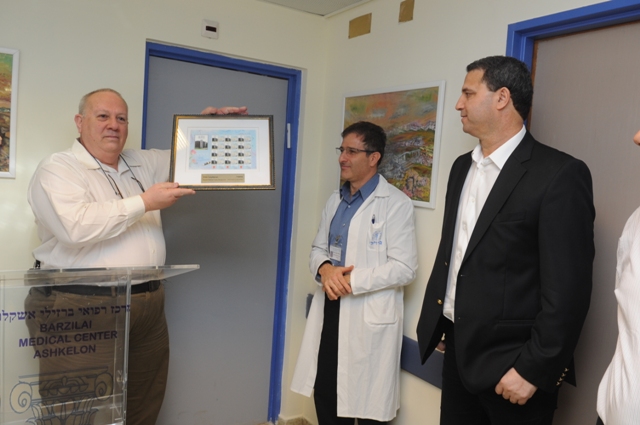 Dr. Shimon Scharf awarding the "Stamp of the Medical Center" to Mr. Eli Elezra.

Mr. Eitan Cohen, administrative director, Prof. Antebi, Mr. Eli Elezra and Dr. Shimon Scharf, giving a statement.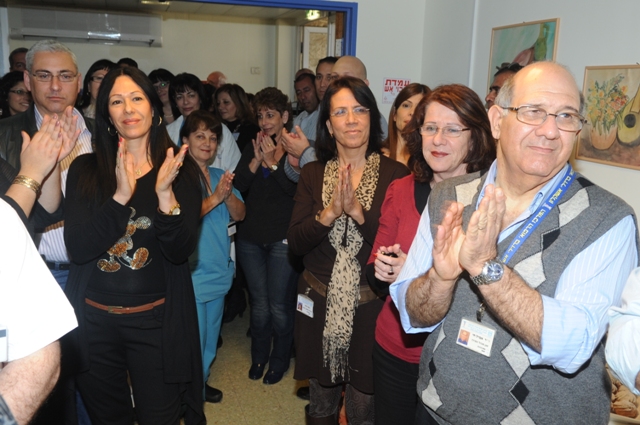 Medical Center Employees at the ceremony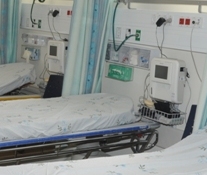 The equipment donated to the new Obstetric Emergency Unit by Mr. Eli Elezra