A special and exciting banquet in the honor of the State of Israel was led by Pastor John Hagee on October 26, 2008 at Cornerstone Church in San Antonio Texas. It was a solidarity gathering of Christians united for Israel and standing there and listening to a Christian choir singing the Israeli national anthem, "Hatikva", together with enthusiastically crowd was an overwhelming experience.
Mr. Lee Wunsch, Chairman of the Jewish Federation of Greater Houston, indicated that each year the celebration honoring the State of Israel at San Antonio becomes more and more exciting and a strengthening event. Among the guests honoring the event were Rabbi Aryeh Sheinberg, Chief Rabbi of San Antonio, Mr. Asher Yarden Consul General of Israel to the Southwest and Dr. Shimon Scharf, CEO and Medical Director of Barzilai Medical Center.
During the exciting evening Pastor John Hagee donated 9.5 million$ to various organizations in Israel. The new shielded Pediatric Department at Barzilai Medical Center received a donation of 1 million$.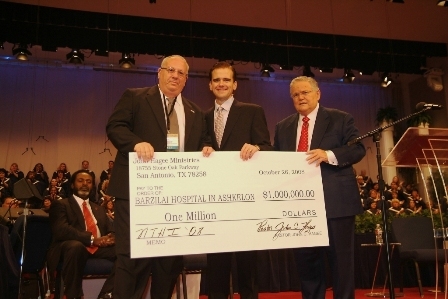 "A picture worth a million dollar" Dr. Shimon Scharf, CEO and Medical Director, receiving the donation