Since the beginning of operation "Cast Lead" the Barziali Medical Center" operates under emergency standard. Rocket attacks over the City of Ashkelon continue all the time and by 12/31/2008 112 casualties were evacuated to the medical center.
Israel President, Mr. Shimon Peres, Ashkelon Mayor Mr. Benny Vaknin, Likud Party Chairman Mr. Benjamin Netanyahu, The Jewish Agency Chairman Mr. Ze'ev Bielski and the British MP Lord Janner visited Barzilai Medical Center in order to strengthen the medical center employees and visit the casualties that are still hospitalized. The honorable guests were hosted by the medical center CEO and Medical Director Dr. Shimon Scharf who described the ways the medical center is organized at emergency status, the urgent need for shielded hospital and about the ways the medical hospital employees who treat casualties cop while endless worry about their own dear ones at home.
The guests toured in the medical center and were introduced to the coping staff at the hospital departments. During the visit several "red color" alarms were heard in Ashkelon and they were followed by rocket launching.
The medical center management and staff were deeply encouraged by the honorable guests.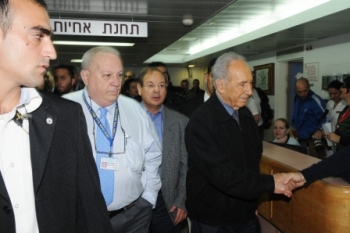 Israel President Mr. Shimon Peres, Ashkelon Mayor Mr. Benny Vaknin and Dr. Shimon Scharf touring the department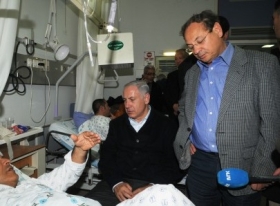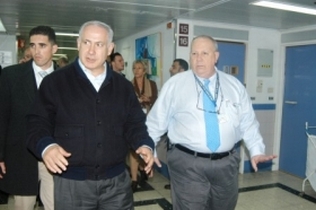 Dr. Shimon Scharf, Likud Party Chairman Mr. Benjamin Netanyahu and Ashkelon Mayor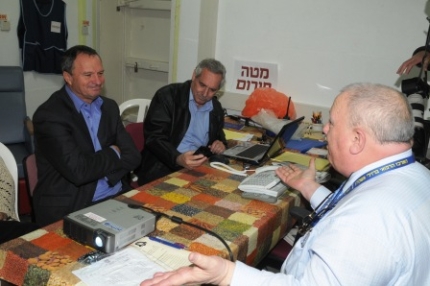 The Jewish Agency Chairman Mr. Ze'ev Bielsky and Barzilai Medical Center CEO and Medical Director Dr. Shimon Scharf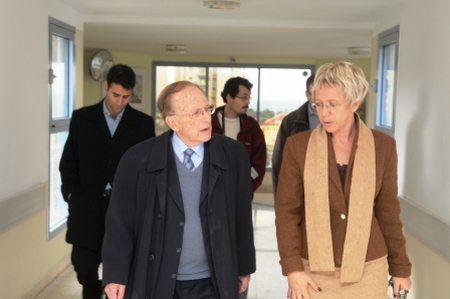 Mrs. Lea Maloul Barzilai Medical Center Spokesperson and British MP Lord Janner