During Sunday 01/04/2009 members of Israeli Medical Association, members of Conference of Presidents of Major American Jewish Organizations and Knesset Member Mr. Avigdor Lieberman paid a visit to Barzilai Medical Center to express solidarity with the staff and patients. The guests were hosted by Dr. Shimon Scharf CEO and Medical director of the medical center and were deeply impressed by the dedication of the staff and their coping abilities during these stressful times. They were told by Dr. Scharf that it is the first time the medical center operates under such circumstances, which involve both working under fire and rocket attacks and treating casualties and at the same time the staff needs to care and encourage their families who live in the cities that are being attacked.
The honorable guests encouraged their hosts and offered assistance in their fields of interest. The Presidents' Conference keeps a close contact all year round and the members had arrived directly from New York for one day only to express their deepest feelings for the people in the area and the soldiers. Knesset Member Mr. Avigdor Lieberman who also keeps close contact with the medical center and is always attentive to the hospital needs offered his assistance in these difficult days.
At the end of their visit the guests toured the shielded hospitalization departments and visited the wounded civilians and soldiers. They wished them quick recovery and strengthened the management and the staff.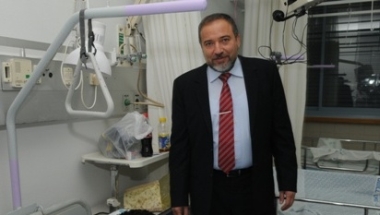 Knesset Member Mr. Avigdor Lieberman at visit in the hospitalization departments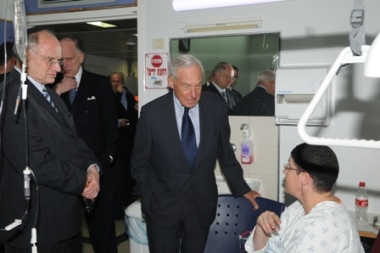 Members of the Presidents' Conference visiting an injured patient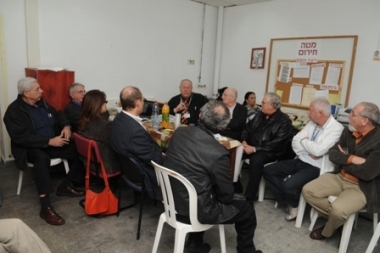 Members of the Israeli Medical Association with Dr. Scharf at Emergency Headquarter