Since the beginning of the fights up to 01/11/2009 Barzilai Medical Center received more than 400 casualties following rocket attacks in the area. Some of the casualties suffer from acute stress reaction, others suffer from injuries caused by shrapnel or from injuries caused by falls while running for shelter. In addition several soldiers suffering from mild injuries are still hospitalized.
"Operation cast Lead" is in its third week. Many guests from Israel and overseas contribute a visit to Barzilai Medical Center in order to strengthen civilians and soldiers, express solidarity with the staff of the medical center and the people of Ashkelon that are exposed day and night to rocket attacks on their houses and are proudly coping with the situation.
the many guests, Knesset members, public figures, representatives of private and public organizations and volunteering organizations talk to the Barzilai Medical Center management and staff, praise the medical center on the ways its functions and offer contributions and assistance. Most of the visitors were able to "experience" the red-color alarms during their visits, hear the sound of the rocket launch and sense, even though for several minutes what the public feels during these rocket attacks.
When visiting the shielded Emergency Department, it is difficult to ignore the amazing view of the blue sea, the beautiful sunsets and the pastoral silence, an intangible contrast to alarm sirens, rocket firing and the cry of casualties that are evacuated to the medical center following rocket attacks on Sderot and Ashkelon.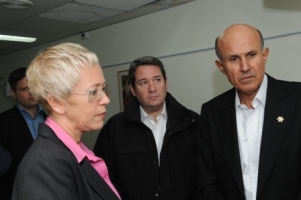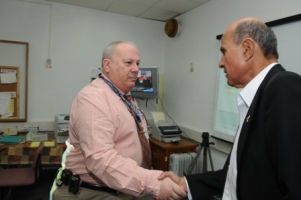 Los Angeles Sheriff meeting Dr. Scharf, CEO and Medical Director and Mrs. Lea Maloul, Medical Center Spokesperson
---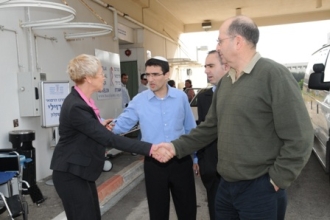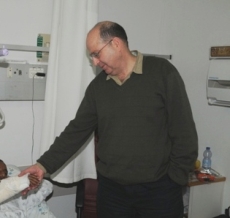 Former IDF Chief of Staff, Moshe Ya'alon visiting the injured
soldiers and meeting Mrs. Lea Maloul Medical Center Spokesperson
---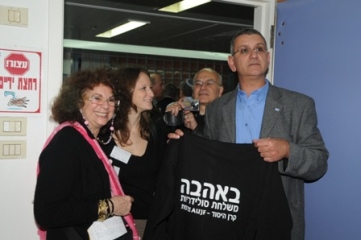 Delegation of "Keren Hayesod" distributing gifts to hospitalized soldiers
---
An irregular convoy rode on Saturday through the gates of Barzilai Medical Center. These were members of "The Motorcycles Club" who came to encourage and strengthen the soldiers and staff by singing and music playing.
It is the second time that "The Israeli Motorcycle Club" participates in the medical center activity. Previously they participated in a seminar on road safety.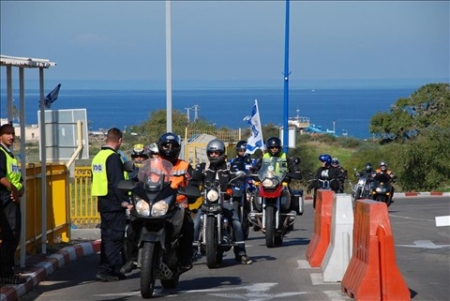 Members of the club riding through medical center gates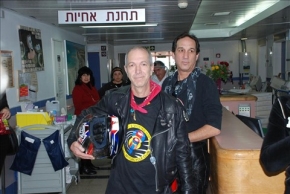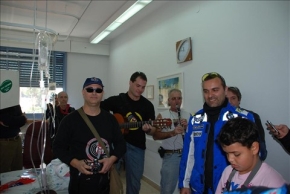 The "tough" riders visiting the soldiers
---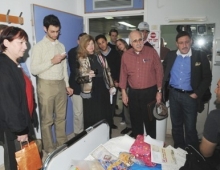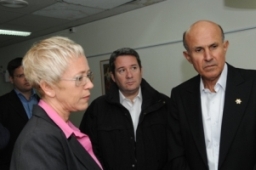 Members of the Jewish American Committee during a tour with Mrs. Lea Maloul Medical Center Spokesperson and visiting one of the injured

---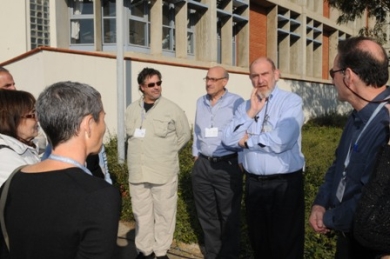 Representatives of the United Jewish Appeal
from France with Dr. Ron Lobel,
Deputy Medical Director
---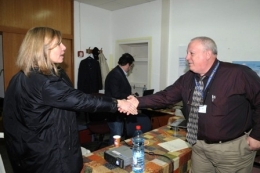 Dr. Scharf, CEO and Medical Director talking to a radio broadcaster from New York
---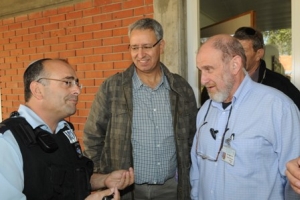 Dr. Ron Lobel, Deputy Medical Director talking to Deputy Inspector general David Bitan