During a special donation effort the International Fellowship of Christians and Jews led by Rabbi Yechiel Eckstein raised 1,500,000 IS from Christians for Israel who donated the money in order to purchase emergency equipment for Barzilai Medical Center.
since the beginning of "operation Cast Lead" more than 400 casualties were evacuated to Barzilai Medical Center. The management of the medical center formed a list of essential equipment for emergency times. The equipment list was transferred last week to the foundation in request for assistance. Among other things the medical center will purchase with the money donation 4 ventilators in total cost of 112,000$, 2 anesthesia apparatus in total cost of 160,000$ and special operating theatre lamps as well.
Dr. Scharf says: "the assistance of the foundation came on the last minute and it is life saving. We, at Barzilai Medical Center do everything possible to give the best treatment to soldiers and civilians but without adequate equipment it is a tough mission. Now we will be able to improve the treatment and optimize it while using the most updated equipment. I am absolutely sure that such donation will effect and raise the staff morale".
Rabbi Yechiel Eckstein says: "assisting at time of emergency is one of the proclaimed goals of the International Fellowship of Christians and Jews. Our donors are citizens of the United States of America and Israel loving Christians from all over the world. These donors express by their donations their care for citizens in the south and their support of the actions Israel has to take in protecting its citizens. The activities of the foundation is recent weeks is a clear expression of its standing alongside Israel in its difficult times".
The International Fellowship of Christians and Jews assisted Barzilai Medical Center in the past by purchasing equipment to treat trauma patients. Since the beginning of the fights in the south the foundation donated more than 1,500,000 IS.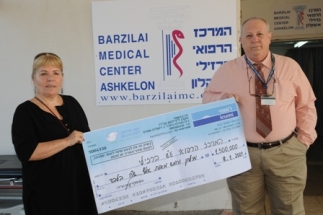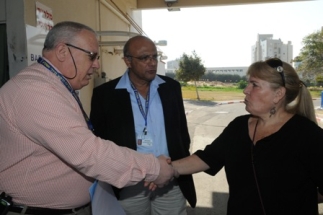 Dr. Shimon Scharf CEO and Medical Director with the check from the foundation at the entrance to the shielded Emergency Department, together with Mr. Eitan Cohen Administrative Director thanking the foundation for their important donation to the people in the south.

A link to the foundation website
www.ifcj.org.il