The Friends of the Reserves is a non-profit organization that was founded by Sam Friedman who served in IDF during the Second Lebanon War. At the end of the war he founded the organization with the purpose to provide the reserve soldiers with the equipment that they require to safely and successfully defend themselves. During the preliminary investigation of the soldiers' needs, he met Dr. Eran Tal-Or from Rambam Medical Center who indicated that the medical staff "serves" in the front as well due to missiles and rockets shooting on Israeli cities.
Ashkelon is one of the cities in which reality forced the medical staff of the Barzilai Medical Center to turn into "front" and during "Operation Cast Lead" the staff was operating constantly under rocket attacks while treating casualties at the Emergency Department and the medical center departments.
Dr. Eran Tal-Or suggested Sam Friedman to donate helmets and bullet-proof vests to the medical staff at Barzilai Medical Center who operates under fire during bombardments and continues providing medical care. Dr. Shimon Scharf, the CEO and Medical Director of Barzilai Medical Center praised the initiative while expressing his hope that the helmets and vests will maintain at storage with no use.
Mr. Yair Amikam the Director of Information and International Relations at the Ministry of Health participated in the ceremony and on behalf of the Ministry of Health Director General thanked the organization for this unique donation.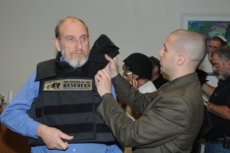 Sam Friedman assisting Dr. Ron Lobel in wearing the bullet-proof vest and lecturing the medical center management about the donated equipment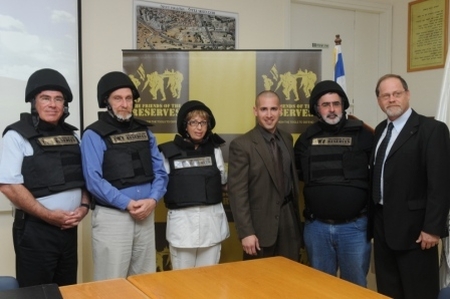 Dr. Eran Tal-Or, members of the organization, Mrs. Esti Peer, Dr. Ron Lobel and Mr. Yair Amikam, wearing the bullet-proof vests