The Barzilai Medical Center management, donors, employees and children participated in the opening the playground ceremony.

The opening of the playground, which is attached to the Child & Adolescent Unit at Barzilai Medical Center, became possible thanks to the generous donations of the Associated: Jewish Community Federation of Baltimore through its Ashkelon-Baltimore Partnership, the patrimony of Mr. Arthur Altman of blessed memory and the National Insurance Institute of Israel, for the wellbeing of the children of Ashkelon.

Mr. Shaul Vardi, manager of Barzilai Medical Center gardening department and gardening therapist by profession, opened the inauguration ceremony and thanked the Medical Center management and the departments and employees of the center who took part and assisted in building the playground. Mrs. Tamar David, Barzilai Medical Center Nursing Director, blessed and thanked the donors and participants on behalf of the management.

Dr. Ilana Bason, the manager of Child and Adolescent Unit explained the distinguished guests the importance of the playground, since it enables children who are treated at the unit to participate in physical activities, games and take care of animals at the cuddle corner, while progressing in therapy. The facilities include basketball court, playground, animal cuddle shad, an orchard and fishpond.

The inauguration ceremony ended with singing performance of the children who are treated at the Child & Adolescent Unit.
Mr. Shaul Vardi delivers a speech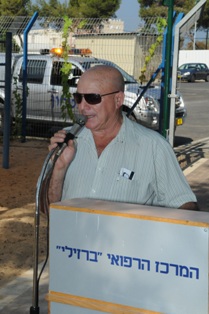 The opening ceremony and donors