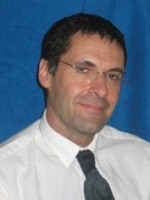 Dr. David Hauser
Medical School
Sackler School of Medicine, Tel-Aviv University
Specialty
Ophthalmology
Retinal Surgery
E-mail
Position
Senior Physician, Department Ophthalmology
Head of the Retinal Surgery Unit
Clinical Experience
1993-1998- Residency in ophthalmology, Department of Ophthalmology
2000-2002- Fellowship in retinal surgery- University of California, Davis
Former Positions in the Medical Center and State Service
1998-2000 Commander of the IDF's Ophthalmology Clinics
Membership in Professional Organizations in Israel and Abroad
Israel Medical Association
State Physicians Association
Israel Ophthalmologists Association
Israeli Society for Research of Vision
American Ophthalmologists Association
American Society for Research of Vision
American Retinal Specialists Association
Scientific Publications
A total of 13 publications in medical journals in Israel and abroad have been published so far, and 30 works were presented in scientific conventions in Israel and abroad.
Selected Publications
1. Hauser D, Barzilai N, Zalish M, Oliver M, Pollack A. Bilateral papilledema with retinal hemorrhages in association with cerebral venous sinus thrombosis and paroxysmal nocturnal hemoglobinuria. American Journal of Ophthalmology, 1996;122:592-593.
2. Oliver M, Gelman-Kohan S, Pollack A, Zalish M, Hauser D. Predictive value of family data for the management of infantile bilateral partial cataract. Eye, 1999;13:562-566.
3. Hauser D, Buckelman A, Katz H, Rechtman E, Kleinman G. Pollack A. Keratic precipitates and iris nodules following uneventful phacoemulsification in diabetic patients. Journal of Cataract and Refractive Surgery, 2002;28(12):2240-2241.
4. Hauser D, Katz H, Buckelman A, Shechtman E, Pollack A. Occurrence and progression of diabetic retinopathy after phacoemulsification cataract surgery. J Cataract Refract Surg. 2004;30(2):428-32.
5. Gerth C., Hauser D., Morse L., Werner J.S.. Fluorescein angiography and multifocal ERG correlation in patients with large drusen. Arch Ophthalmol. 2003;121(10):1404-14.
6. Hauser D. Buckelman A, Katz H, Pollack A. Ocular ischemia associated with uncontrolled hypertension in lupus erythematosus. Can J Ophthalmol. 2004;39(1):83-4.
7. Barak A, Hauser D, Yipp P, Morse L, Leigh B, Kubo D, Goldberg Z, Earle J, Handa J. A phase I trial of stereotactic external beam radiation for subfoveal choroidal neovascular membranes in age-related macular degeneration. Br J Radiol. 2005;78(933):827-31.
8. Pollack A, Landa G, Kleinman G, Katz H, Hauser D, Bukelman A. Results of combined surgery by phacoemulsification and vitrectomy. Isr Med Assoc J. 2004;6(3):143-6.
9. Thein R, Pollack A, Bukelman A, Katz H, Len A, Pokroy R, Parnes R, Aloni E, Hauser D. Intravitreal triamcinolone acetonide for diffuse diabetic macular edema - one year follow-up, Harrefua 2005;144(11):759-762.
10. Parness R. Kleinman G, Katz H, Hauser D, Bukelman A, Schechtman E, Leiba H, Pollack A. Diabetic retinopathy following cataract surgery. Harrefua 2005;144(11):763-767.