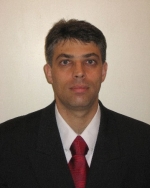 Dr. Daniel Cotlear
Medical School
Sackler School of Medicine, Tel Aviv University
Specialty
Ophthalmology
E-mail
Positions
Senior Physician- Ophthalmology Department, Barzilai Medical Center
In-charge of the Glaucoma Service- Barzilai Medical Center
Clinical Experience
1996-2002- Residency in Ophthalmology- Ophthalmology Department, Rabin Medical Center,
Beilinson Campus.
2002- Senior Physician, Ophthalmology Department, Barzilai Medical Center
Continuing Medical Education
1996-2001- Continuing Education in Ophthalmology, Tel Aviv University
2000- Medical research on the anterior chamber of the eye, Miguel University and the Alicante
Ophthalmology Institute, Alicante, Spain
2002- Didactic and Wet lab course on the implantation of the CIBA Vision PRL, Alicante, Spain
2006-2007- Fellowship in Glaucoma Surgery, Western Eye Hospital, NHS, St. Mary's Hospital,
London.
Membership in Professional Organizations in Israel and Abroad
Israel Medical Association
State Physicians Association
Israeli Ophthalmologists Association
British General Medical Council
Israel Glaucoma Society
British Glaucoma Society
European Glaucoma Society
Scientific Publications
Talmi YP, Cotlear D, Waller A, Horowitz Z, Adunski A, Roth Y, Kronenberg J. Distant metastases in terminal head and neck cancer patients. The Journal of Laryngology and Otology 1997;111:454–458.

Snir M , Axer- Siegel R , Cotlear D , Sherf I ,Y . Yassur. Combined resection and anterior transposition of the inferior oblique muscle for asymmetric double dissociated vertical deviation. Ophthalmology 1999;106(12):2372-2376.

Axer-Siegel R, Snir M, Cotlear D, Maayan A, Frilling R, Rosenbaltt I ,Weinberger D, Kremer I , Sirota L. Diode laser treatment of posterior retinopathy of prematurity. BrJOphthalmol 2000;84(12):1383-6.

Axer-Siegel R, Cotlear D, Priel E, Rosenblatt I, Snir M, Weinberger D. Indocyanine green angiography in high myopia. Ophthalmic Surg Lasers Imaging. 2004;35(2):139-45.

Alio JL, Mulet ME, Cotlear D, Molina Y, Kremer I, Martin JM. Evaluation of a new bioadhesive popolymer (ADAL) to seal corneal incisions. Cornea. 2004 Mar;23(2):180-9.