Dr. Eyal Alony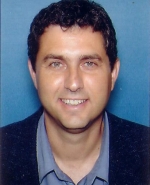 Medical School
Hadassah School of Medicine, Hebrew University, erusalem
Specialty
Ophthalmology
E mail
eyal_aloni@yahoo.com
Positions
Senior physician, Ophthalmology Department
In-charge of Neuro-Ophthalmology Service
Neuro-Ophthalmology advisor- Maccabi Health Services
Lecturer in the Faculty for Health Sciences, Ben Gurion University of the Negev
Clinical Experience
1999-2003 - Specialty in Ophthalmology- Ophthalmology Department, Kaplan Medical Center, Rehovot
2005 - Current - Senior physician, Ophthalmology Department and in-charge of the Neuro-Ophthalmology service, Barzilai Medical Center
Continuing Medical Education
2004-2005- Fellowship in Neuro-Ophthalmology, Henry Ford Medical Center, Michigan, USA.
Awards
Award for outstanding articles:
1999- Quantitative analysis of retinal thickness in eyes with diabetic retinopathy after cataract surgery, by the RTA. The Ophthalmologic Society: Imaging and Angiography conference, Israel museum, Ramat Aviv, Israel.

2003 - The diagnostic capabilities of the Scanning Laser Polarimetry (GDx) in detecting glaucomatous damage. The Ophthalmological Society: Imaging and Angiography conference, Israel museum, Ramat Aviv, Israel.
Membership in Professional Organizations in Israel and Abroad
State Phsycians Association
Israel Medical Association
Israel Ophthalmologists Association American Society for Research of Vision
North American Neuro-Ophthalmology
Scientific Publications
6 articles have been published so far in medical journals in Israel and abroad.
A Grinvald, T Bonhoeffer, I Vanzetta, A Pollack, E Aloni, R Ofri, and D Nelson: High resolution functional optical imaging: from the neocortex to the eye. Ophthalmol Clin North Am 2004;17(1):p. 53-67.

Landa G, Aloni E, Milshtein A, Marcovich A, Mozes M, Pollack A: Eyelid bleeding and atypical amyloidosis. Am J Ophthalmol. 2004;138(3):495-6.

Nelson DA, Krupsky S, Pollack A, Aloni E, Belkin M, Vanzetta I, Rosner M, Grinvald A. Special report: Noninvasive multi-parameter functional optical imaging of the eye. Ophthalmic Surg Lasers Imaging. 2005;36(1):57-66.

Bakalash S., Shlomo GB., Aloni E., Shaked I., Wheeler L., Ofri R., Schwartz M. T-cell-based vaccination for morphological and functional neuroprotection in a rat model of chronically elevated intraocular pressure. J Mol Med. 2005; 83(11):904-16. Epub 2005 Aug 12.

Thein R, Pollack A, Bukelman A, Katz H, Pokroy R, Len A, Parnes R, Aloni E, Hauser D. Intravitreal triamcinolone acetonide for diffuse diabetic macular edema--one year follow-up. Harefuah. 2005;144(11):759-62, 824.

Ben Simon GJ, Bakalash S, Aloni E, Rosner M. A rat model for acute rise in intraocular pressure: immune modulation as a therapeutic strategy. Am J Ophthalmol, 2006;141(6):1105-11.